You could easily spend a month taking day trips from Rome every day.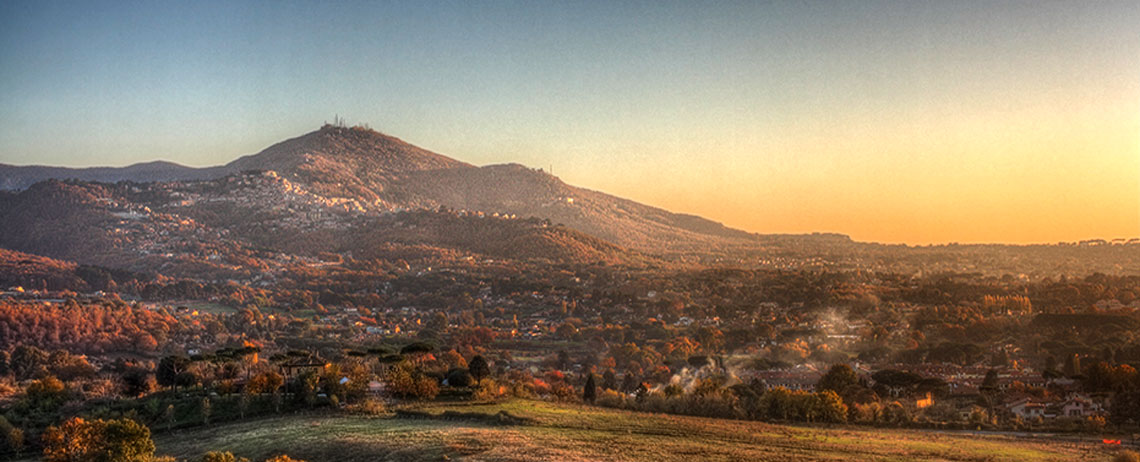 Rome is the main city of a region called Lazio, which is extremely rich in beautiful historical and natural sites. You could easily spend a month in the area visiting new places every day. So this is just a very short selection of the highlights of the immediate surroundings of Rome, but if you plan to stay for a long vacation in Lazio do not hesitate to ask us for further suggestions. 
In Italy all the main cities are very well connected to each other by train, but when you move to small towns connections can be inefficient and complicated, that is why for some destinations we suggest hiring a car and driver. 
So we will give you some advice on places you can easily reach in a day on your own and places very close and beautiful for which we highly suggest having a driver.
---
Places you can easily reach with public transportation in a day:
Ostia Antica: 
It is the ancient port of Rome – a huge archeological area not far from the sea, only 25 km from Rome. The main interest of the site is that here, you will have the opportunity to discover the everyday life of the simple Roman citizens. Ostia was a small town but a very rich, lively and important port for commerce. A cosmopolitan city, probably even more so than Rome, where you will see temples of all religions, there is even a very ancient synagogue! In Ostia archeologists have excavated many private middle class houses, public thermal baths, public toilets, stores, and a beautifully conserved theatre. 
From April to the last Sunday of October: Tuesday to Sunday, 8.30 a.m. to 6.00 p.m. (you will be asked to be out of the archeological area at 7.00 p.m)
From last Sunday of October to end of February : Tuesday to Sunday, 8.30 a.m. to 4 p.m. (you will be asked to be out of the archeological area at 5.p.m.)
March: Tuesday to Sunday, 8.30 a.m. to 5 p.m.(you will be asked to be out of the archeological area at 6.p.m.)
Ticket: 6,25 € 
It is easy and quick to reach by public transportation. From Rome Termini Station take Metro Line B, direction Laurentina and stop at Magliana. From Magliana take the train for Ostia Lido and stop in Ostia Antica. The train passes every 5 minutes during rush hours, otherwise it is every 10 -15 minutes. It runs from 5.18 a.m. to 11.30 p.m.
Once you are out of the station, cross the road on the pedestrian bridge in front of the station and continue walking strait for less than 2 minutes and you will reach the entrance of Ostia Antica Archeological area.
For further information, follow the link:
http://www.ostiaantica.info/index.php
---
Villa d'Este in Tivoli:
Tivoli is a small town not far from Rome, where in 1550 the Cardinal Ippolito d'Este started to build himself a private palace with a magnificent garden full of fountains and a fantastic terrace to view the Roman landscape. The Cardinal Ippolito d'Este was one of the most powerful people in Rome in the mid-16th century; he planned to became pope and was nearly elected in 1555. Unfortunately for him, Paul IV became pope instead.  So the cardinal decided to dedicate his time to the creation of a magnificent court in Tivoli. The most popular Roman artists of the second half of the 16th century decorated the rooms of the palace while the garden is a masterpiece of Italian gardening with its spectacular fountains.
The Villa d'Este is open everyday, except on Mondays, the 1st of January, 25th of December and 1st of May.
Opening hours:
January: from 8.30 am to 4 pm
February: from 8.30 am to 4 pm
March: from 8.30 am to 4 pm
April to August: from 8.30 am to 6.30 pm
September: from 8.30 am to 6 pm
October from 8.30 am to 5.30 pm
November to December: from 8.30 am to 4 pm 
Tickets: 8 €
You can easily reach Tivoli from Rome by train, there is a train every 30 minutes from Roma Termini station or Roma Tiburtina station. Check the following link for the timetable:
Tivoli is a quite small town, from the station ask for directions and walk to the villa. You will not get lost.
The splendid villa of the Emperor Hadrian, Tivoli is only 5 km away from Villa Adriana, we suggest renting a car with a driver and visiting both in the same day. 
---
Places we suggest visiting only by car:
Villa Adriana (Hadrian's Villa – Tivoli):
In the 2nd century AD the Emperor Hadrian decided to build a summer residence 17 Roman miles from the capital of the Empire, in the middle of the country, in an area rich in water and caves of building material like the beautiful Travertino. The villa covered a surface of 250 acres and was a stunning construction rich in fountains and statues. You can still see the grand ruins of the thermal baths, of the famous Canopo or the so called Maritime Theatre and many other buildings in the middle of an olive tree plantation. 
Defenitly worth seeing, but difficult to reach with public transportation.
You can get to Villa Adriana with a bus from Tivoli: in this case: catch a train for Tivoli (see indications above), take bus CAT 4 from the square in front of the train station and stop at 300 m from the entrance of Villa Adriana.
If you want to go by bus: from the center of Rome (Termini Station) take Metro line B in direction of Rebibbia, stop in Ponte Mammolo and go to the Co.Tral bus stop. Take the bus for Villa Adriana. During working days there is, more or less, one bus every hour, during holidays one every 2 hours. The bus will stop 300 m from the archeological site. In case you decide to go by bus get organized to came back to Rome by bus as well because you will not find taxis there.
For the bus time table check here:
http://www.cotralspa.it/PDF_Orari_Comune/_Ponte_Mammolo_[Metro_B].pdf
You might think it is very poorly organized, and you are right! It is one of the most beautiful places in the world, a Unesco World Heritage Site, at 25 km from Rome (same distance as Ostia Antica) but very poorly connected. The site does its own official web site! This link below is the best tourist information you can find in English: 
http://www.tibursuperbum.it/eng/monumenti/villaadriana/index.htm
For historical information, follow this link instead:
We suggest going to Villa Adriana with a private car and visiting also Villa d'Este in Tivoli in the same occasion. The 2 places are at only 5 km from each other and can be easily visited in a day.
Villa Adriana is opened every day except: 25th December, 1st January.
January: from 9 am to 3.30 pm
February: from 9 am to 4.30 pm
March: from 9 am to 5 pm
April:from 9 am to 5.30 pm
May-August: from 9 am to 6 pm
September: from 9 am to 5.30 pm
October: from 9 am to 5 pm
November, December: from 9 to 3,30 pm
Ticket fee: 8€