Roman summers can be HOT! Consider taking a break from sightseeing to go for a dip.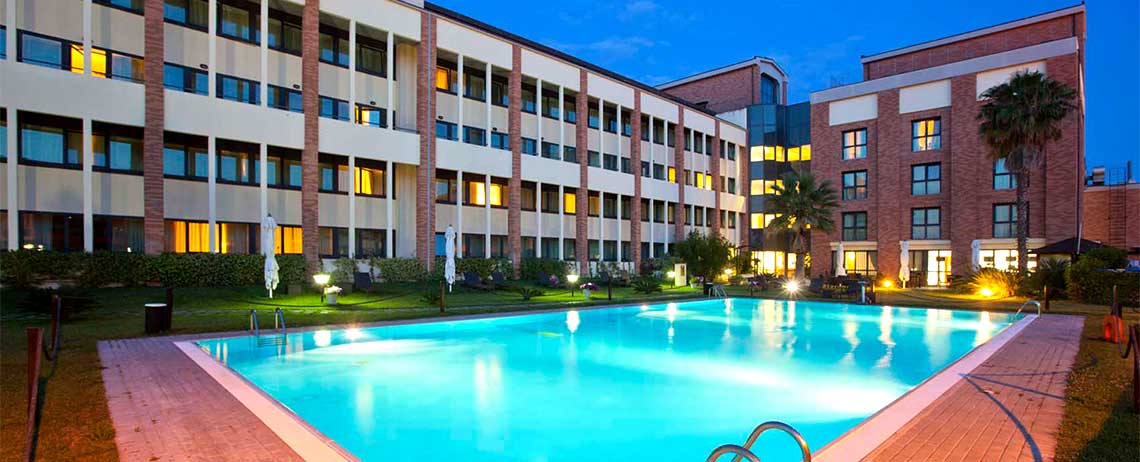 Here are some of our top picks for where to take a swim:
---
Public Pools in Rome
This is a selection of public, out-door pools in Rome. There is usually a registration fee in addition to the daily cost. Typically pools are open during the summer months, but its best to call before going.
Piscina delle Rose
A short walk from Eur Palasport stop (Metro line B)
Address: viale America, 20
Tel 0654220333
Centro Sportivo Italiano Lungotevere Flaminio
Address: Via lungotevere Flaminio, 59
Tel 06 3234732
http://www.csiroma.com/nuovosito/info/csiroma.asp
Centro Sportivo Nadir
Adress: via Francesco Bonfiglio 62
Tel 06 3013340
---
Beaches Near Rome
If you've had your fill of sightseeing or oppressive summer heat, why not enjoy a day at the seaside? It is easy to escape the city for a day of seafood, sand, and sunsets but remember most beaches are very crowded on weekends.
You can check train times, routes, and prices (in English!) at Trenitalia:
http://www.trenitalia.com/cms/v/index.jsp?vgnextoid=ad1ce14114bc9110VgnVCM10000080a3e90aRCRD  
Keep in mind that Italian trains are notorious for delays.
OSTIA LIDO
While it might not be as glamorous as other Italian beaches, Ostia Lido is the closest to Rome. There are some good private sandy beaches available for day use as well as a few public beach areas. The beach at Ostia is known for its dark sand and the water is clean enough for swimming.
How to get there:
About 30 minutes from Rome's 'Porta S Paolo' Station (connected to the Metro B station 'Piramide') take the Ostia Lido train to the 'Ostia Lido Centro' stop or continue to the next stop, 'Ostia Stella Polare' both have a picture of water on the list of stops inside the train.
SANTA MARINELLA BEACH
Santa Marinella has nice sandy beaches, with free access or private, and clear water for swimming. In the small town of Santa Marinella you'll find bars, shops, and good seafood restaurants. In the days of ancient Rome, Santa Marinella was a Roman bathing resort.
How to get there:
Less than an hour by regional train from Termini Station (or Trastevere station or San Pietro station) get off the train at Santa Marinella and you'll have a five-minute walk from the station to the beach.
SANTA SEVERA BEACH
It takes its name from the 2nd-century Christian martyr. The village includes a small medieval town with a 9th-century castle facing the sea, where the ancient Etruscan port of Pyrgi was once located. It's about 10 km from Santa Marinella.
How to get there:
By direct train from Ostiense, Trastevere or San Pietro stations.
SPERLONGA BEACH
Sperlonga beach is one of Italy's 'blue flag' beaches which means the sand and water are clean and the beach is environmentally friendly. Most of the beach areas are private so you'll pay a fee for use or squeeze into one of the small public areas. Sperlonga itself is a picturesque town with narrow streets rising up the hill from the sea. In town there are shops, cafes, and restaurants. Sperlonga has been a popular seaside destination since Roman times. Emperor Tiberius had a villa south of the town that you can visit along with the Grotto of Tiberius and archeological museum.
How to get there:
Take a regional train from Rome's Termini station to the Fondi-Sperlonga station (a little over an hour), then take a bus from outside the station (you can get off the bus when you see water or stay on until the end of the line and it will take you up the hill into the town).
SABAUDIA AND CIRCEO PARK
Sabaudia's 20km of beaches have been consecutively awarded the European Blue Flag - guaranteeing the cleanliness of the water and the quality of the services offered. Sabaudia is included in Circeo Park. Circeo Park was born in order to protect not only a single species but also a rich group of characteristic biomes (associations of coexistent plants and animals determined and influenced by environmental factors) with a consequent abundance of species which today has been defined as biodiversity.
How to get there:
By train from Termini Station get off in 'Priverno Fossanova' Stop, and then take a bus from outside the station or a taxi. (Under 2 hours total)
---
Lakes Near Rome
Rome gives you different opportunities for a sunny day and a swim, including some beautiful lakes.
BRACCIANO LAKE
Bracciano is an enormous lake has a shore length of approximately 32,19 kilometres (20,00 miles) and is volcanic in its origins. The shores of Lake Bracciano are spotted with relaxed restaurants, cafes, and gelaterias. From windsurfing to bicycle rentals; the lake has plenty of activities for you to enjoy. No motor are allowed in the lake so the clean clear water is perfect for a swim
How to get there:
By train from Ostiense station (Rome-Viterbo line) and get off at 'Anguillara' stop.  
MARTIGNANO LAKE
This is a destination for the more adventurous tourist. If you want to escape crowd and heat and to reach a quiet and relaxed natural volcanic lake, Martignano Lake is the right place for you. 
How to get there:
By train from Rome (Ostiense or Trastevere or San Pietro station) . Take the Roma-Viterbo train and get off at Anguillara-Sabazia stop (less than an hour) and then take taxi or bus to the lake (under 2 hours total).