Like to drink? Here are Eyes of Rome's recommendations to quench your thirst.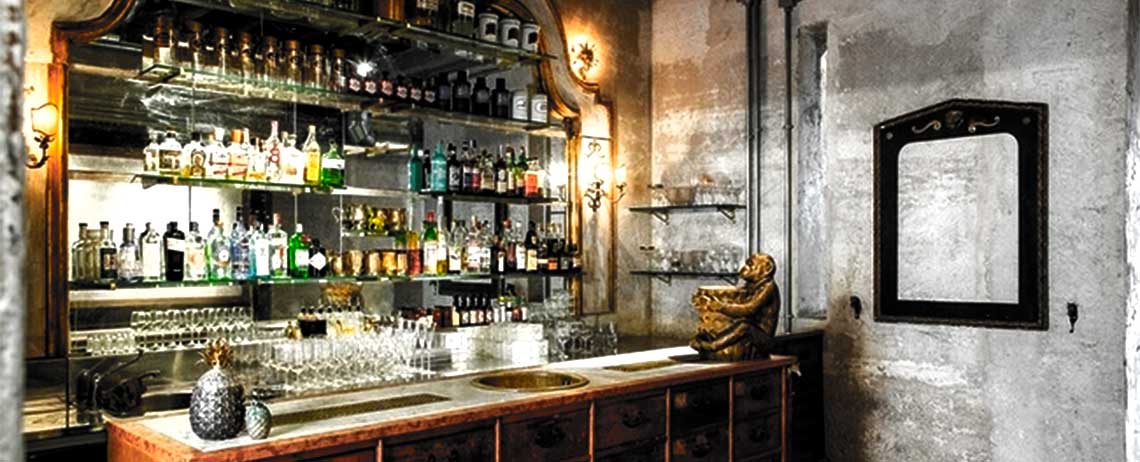 image source - Sacripante
Rooftop- Les Etoiles- Situated near the Vatican and Castel Sant'Angelo, this trendy French rooftop bar has one of the most breathtaking views paired with a fun atmosphere. Finding a 'fun' rooftop bar with this great of a view is hard to come by since most are located in private Hotels or elite clubs. This one however is worth checking out!
Trendy ambiance- Capone's Speakeasy-Ostiense offers a wide range of trendy bars between the metro stops Pyramide and Garbatella. The reason why we suggest exploring this part of Rome is because this is a very hip and up-and-coming area in the city where lots of young locals hang out. Al Capone's Speakeasy has an underground '20's atmosphere with exotic cocktail selections and vibrant crowds.
Live music- Gregory's Live Jazz & Whiskey Bar- This intimate venue offers a range of jazz, blues, soul and rock live performances. The lively crowds and whiskey cocktails are hit with tourists as most of the bands play in english. Gregory's has truly refreshing and yet nostalgic vibes. If you're looking for a nice dinner and a full experience of Rome's Jazz nightlife we recommend our tour on the Jazz Tram! For more information about this tour, contact us!
Chill vibes- Il Sorpasso- For those of you looking to take a drink with the locals any day of the week, we suggest checking out Il Sorpasso or 'The Overtake' in Prati. It has a rustic, industrial aesthetic and they tend to play rhythmic 'hotel bar' style music (nothing overpowering). It's a great place to wind down after a long day of sightseeing.
Quirky aesthetic- Sacripante Gallery & Cocktail Bar- In the heart of Monti, this gallery also functions as a cocktail bar by night. The concrete walls and exposed ceiling fixtures filled with reappropriated antique furniture gives this bar a very trendy European feel. One of the most visited places by locals in the area on the weekends.
Best cocktails- Bar del Fico- Minutes away from Piazza Navona, this bar has some of the most unique concoctions at reasonable prices! You'll be in awe with the bartenders' lightning quick speed. The bar is relatively small and is almost always packed with a variety of different age groups with both tourists and locals alike.