After a long day of touring, it's nice to unwind with a romantic stroll through some of the most picturesque sights around the city.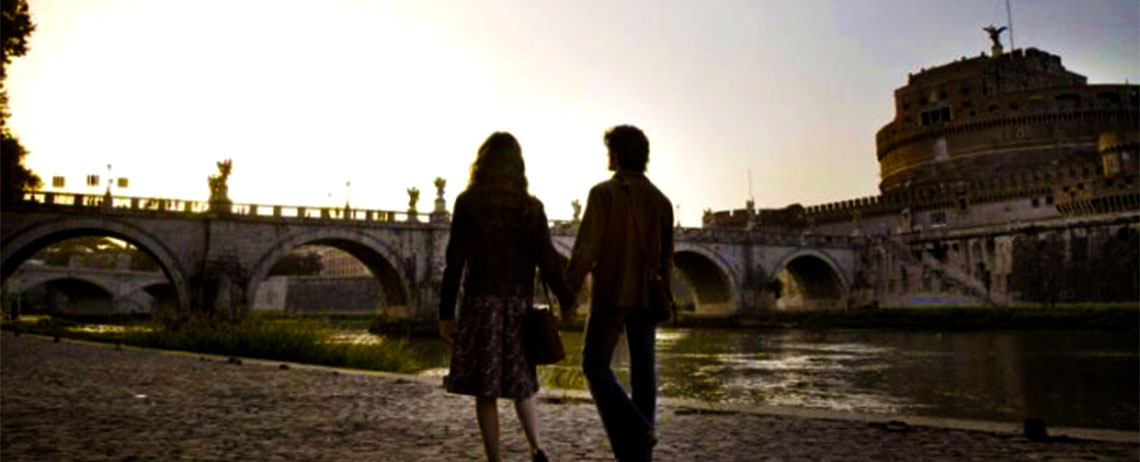 image source - walk along the Tiber under the Sant'Angelo bridge
Rome, as a city, naturally evokes a romantic ambiance everywhere you go but these sights in particular will make you and your loved one feel as if you're in a dream.
Pincio Gardens (Villa Borghese)- The Pincio Gardens in Villa Borghese are one of the highest rated romantic spots in Rome according to tourists and locals alike. The gardens are unique; there are 228 busts of pivotal Italian explorers, writers, philosophers, scientists, etc that impacted history. It could be extra special to find some of the famous poets and read their beautiful love poems to one another! The best time to visit is in the spring time around sunset. The weather is pleasant and the colourful sky will compliment the spectacular panoramic view of Piazza del Popolo.
Trevi Fountain- For several obvious reasons, the Trevi Fountain is regarded as the epitome of 'Italian Romance' all around the world. Due to it's high influx of tourists throughout most of the year, we recommend visiting this Baroque masterpiece at dusk before breakfast so you and your loved one can basque in it's beauty without the hassle of fighting crowds.
"Lungotevere" e Ponte Sant'Angelo- Just like the Seine in Paris, the Amstel in Amsterdam, the Thames in London and many other European cities- the Tiber river is a lovely place to take a long and leisurely stroll. The best place to stop and take a couple-y picture together is on the Sant'Angelo Bridge. When lit up at night, Castel Sant'Angelo seems as if you've stepped into a fairytale kingdom.
Sidestreets in Spagna- The streets adjacent to Via del Corso and Via dei Condotti are full of locally owned shops with tons of precious Italian-made goods. The decorative store windows down narrow alley ways is the ideal pre-dinner stroll. We recommend walking down Via Belsiana and Via delle Vite where you'll also find some quaint restaurants.
Villa d'Este- For the couples that are looking for a romantic day trip, the best site to experience is Villa d'Este. Eyes of Rome offers convenient and exceptional tours of the villa. After experiencing the vast estate with your private guide, you two can take a walk through the beautifully manicured gardens and even the surrounding village.