Official licensed taxis in Rome are easy to recognize: they are white, a Taxi sign on the roof and the driver's license on the window/door.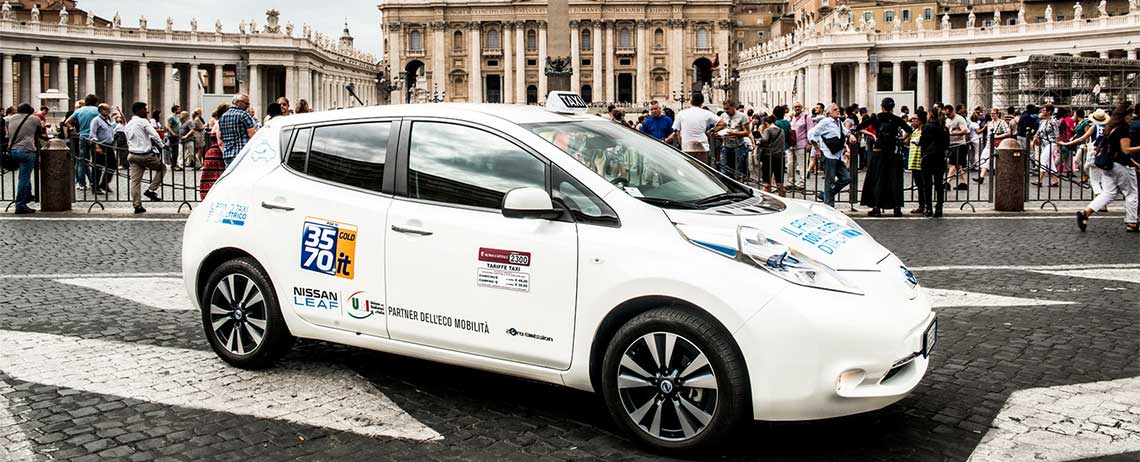 Rome's taxi rates depend on the destination and on traffic, but an average 15 min drive should cost between €10.00 and €15.00. Inside every vehicle you will find a taximeter which shows you the price of your journey as you go.
For taxi transfers between Rome city center and Fiumicino Airport there is a flat rate of €48.00, while from and to Ciampino the flat rate is €30.00. It might be best confirming this rate with your taxi driver before entering the taxi.
How to call or find a taxi
We don't hail taxis like in Manhattan by waving your arms, whistling, or yelling. You'd be really lucky if you find a taxi this way. In the city center there are many specific taxi ranks where you will usually always find a few taxis waiting. Always grab the very first one in line, unless you'd prefer an electric one elsewhere in line.
Alternatively, if you'd like to be picked up at a specific location, you can call them directly. There are 2 major taxi companies in Rome.
Radiotaxi 3570 - call +39 063570 
Samarcanda -  call +39 065551
Watch out for Taxi Scams
For the record, the majority of Roman taxi drivers are magnificent and honest people who will love to entertain you during the drive. But just like anywhere else sometimes something can go wrong.
The best way to avoid any scams is by preventing them. Take note of the license number of the vehicle, the driver's name and the number of the taxi company when you get in the taxi.
Be aware of people that encourage you to skip the line at the official ranks when waiting for the taxi especially at train stations and airports. Official taxi ranks are marked by a yellow sign and the drivers will wait in or right near their car.
Make sure that the taximeter is on at all times except if a set rate has been negotiated.
When paying the final sum once arrived, hand them your bills one by one and count together with the driver. This will prevent them to tell you that you have handed him a 5 euro bill instead of a 20. Yes, also this can happen.