Italy is synonymous with fashion, and as the capital of Italy, Rome offers some fantastic shopping for any budget.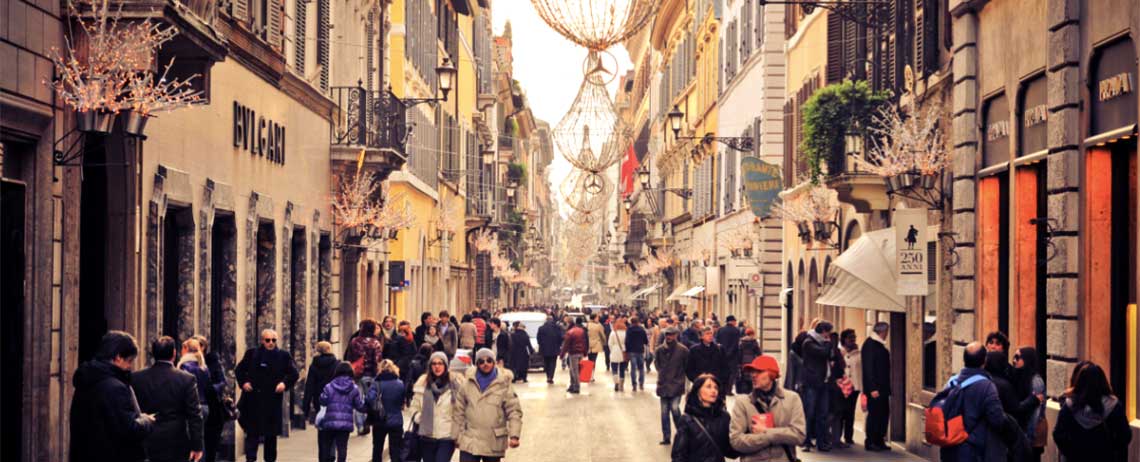 From top Italian designers to flea market finds, Rome is a treasure trove for fashionistas as well as those just looking for a one-of-a-kind souvenir. 
Bring cash for the street vendors and markets but have your credit card ready for the designer shops!
---
SILVIA

In Rome there are all the big Italian brands - around via Condotti and via del Babuino (Spanish Steps area) you will find Valentino, Ferragamo, Prada, Etro, Bulgari... but if you want to buy some less expensive and very nice italian fashion try some little shops such as Ethic for a more colorful style and Patrizia Pepe or Carla G for more serious suits, all are absolutely Italian!
---
KATIE
If you want to experience the ultimate sensory overload, head to a mercato all'aperto, an open-air market. Here you will find rows of stalls filled with fresh fish, meats, and vegetables, all from local farmers. If you go early enough in the morning, the buffalo mozzarella is so fresh, it's still warm! Near the Vatican, visit the MERCATO TRIONFALE (Via Andrea Doria) Near Trastevere, visit the MERCATO DI TESTACCIO (Piazza Testaccio).
ALSO RECOMMENDED BY REENA
Food – cheese, ham, vegetables, and an array of mainly local produce!
---
You'll find the most famous mercato at CAMPO DE FIORI, but these days prices are high and Romans are few.
ALSO RECOMMENDED BY REENA
Although slightly pricier than the average food market, I love the Campo market – centrally located with a good mix of stalls, sights, smells and sounds. the surrounding streets (Piazza del Biscione, Via dei Giubbonari, Via dei Baullari, Via del Pellegrino) have some great little shoe shops and local boutiques) too! Also recommended by Stefania – great for fruit, vegetables, flowers!
---
STEFANIA

SPANISH STEPS - Via Condotti, Via Frattina, Via del Babuino: if you are looking the best Italian fashion stores (Valentino, Armani, Gucci, Prada ...) and for jewels (Damiani, Tiffany, and Buccellati)... VIA COLA DI RIENZO (near the Vatican) Long road linking the Vatican area with Piazza del Popolo, where you'll have the possibility of choosing between the best names in our Italian tradition of designers and some new entries, always with the best quality materials.
---
PORTA PORTESE - Trastevere district only for the brave! Rome's largest flea market is only open on Sunday mornings PIAZZA NAVONA and VIA MARGUTTA (near Spanish Steps), if you like Art and paintings.