For the best views of Rome, aim high.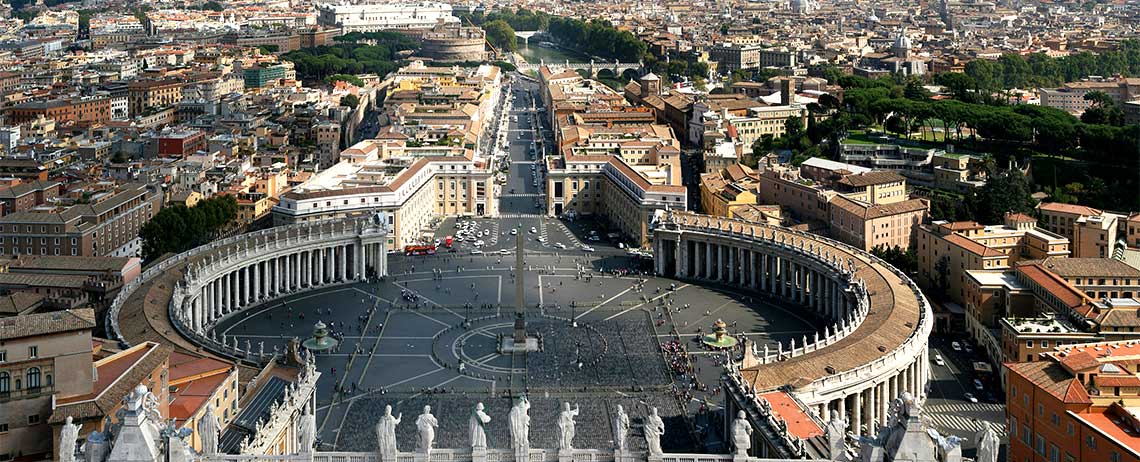 Rome is inherently photogenic, with its seamless combination of ancient, Renaissance, and modern architecture. From the narrow, cobblestone alleys to the many domed churches nestled among Roman cypress trees, the Eternal City offers one-of-a-kind views.
---
REENA RECOMMENDS...
IL VITTORIANO
The monument to King Victor Emanuel (otherwise known as the wedding cake) was very recently fitted with a glass elevator which leads up (for a relatively small fee) to the uppermost level of the building. The 360 degree panoramic view of Rome and its surroundings are simply breathtaking. The terrace is also equipped with high powered binoculars, so you can really zoom in on some of the city's most famous monuments. Lots of fun for kids too!
Also recommended by Francesco!
---
THE ORANGE GARDEN ON THE AVENTINE HILL
With its beautiful ornamental orange trees, the garden is a peaceful and romantic place to enjoy a lovely view over Rome. A great little refuge from the bustling city below and the perfect place to crack open a bottle of wine and watch the sunset!
---
SILVIA RECOMMENDS...
SEVERAL OPTIONS
You could spend a day moving from a place where you can have a wonderful view of Rome to the other! All are beautiful, different and worth seeing. Don't miss the view of the ROMAN FORUM from CAPITOLINE HILL.
There is also a unique view from the top of ST. PETER'S DOME (but you have to climb 320 steps!)
You will see the entire city from the terrace of the GIANICOLO HILL (Trastevere district).
My favourite is, however, the view you get from the terrace of CASTEL SANT'ANGELO: you can see the Tiber river, Saint Peter's Basilica and Gianicolo hill, at sunset it is really superb!
---
KATIE RECOMMENDS...
GIANICOLO
Getting up the Gianicolo hill is arduous, but for this reason you almost never have to share this spectacular view of Rome with others. From here you can easily visit Bramante's Tempietto- a modest chapel dedicated to St Peter adjacent to San Pietro in Montorio. A good place to reflect on Bramante's other not-so-modest project in Rome, the massive Basilica of St Peters!
Also recommended by Francesco and Stefania!
---
EMILIANO RECOMMENDS...
PINCIO
The Pincio is the place where all the young Italian boys bring their dates for their first kiss. Nevertheless, it remains one of the most romantic places and best views of Rome even for grown ups. I highly recommend going there for a view of Rome at sunset.